CURRENT ISSUE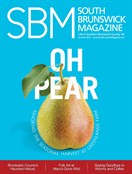 SUMMER 2016
Online Magazine
Subscribe
Where to find sbm

Douglas Diamond Jewelers
By Hilary Brady

Doug Turner knows a gem when he sees one. During a visit to his coastal home at Ocean Isle Beach in the spring of 2008, Doug was enjoying a leisurely bite to eat at a restaurant when he noticed something sparkling in the distance. It was a soon-to-be vacant storefront, and it was calling his name. Twenty-four hours and a few phone calls later, the space belonged to Doug.

At the time of his visit, Doug, a jewelry store owner with more than 30 years of industry experience, lived and worked in Lexington, N.C. He knew that he wanted to move closer to his Ocean Isle home, he just didn't know that it would happen so quickly. But it did. Doug packed up his Lexington store and headed to the coast.

Douglas Diamond Jewelers in Shallotte has now been open for nearly one year, occupying the space that caught Doug's eye last spring. Two thousand square feet and 29 showcases exhibit fine diamond, bridal, gemstone, gold and sterling silver jewelry. Although the type of products may seem typical for a jewelry store, the combination of service, selection and price is what makes Douglas Diamond Jewelers shine among the competition.

First and foremost, Doug is not your typical jewelry store owner. He travels around the country selling pieces to other retailers and attending jewelry shows. As a wholesaler, Doug is able to offer higher quality items at significantly lower prices to his customers at home. Cutting out the middleman allows Doug's customers to reap big benefits.

Not only do they pay below retail, but they also have local access to a qualified jeweler with the experience, selection and quality typically found only in major metropolitan areas.

While bridal and diamond jewelry are Douglas Diamond Jeweler's forte, the store also carries precious and semi-precious gemstone jewelry, men's and women's watches, and striking sterling silver pieces.
And the price points are as vast as the product selection. Although most of its customers are in search of great values, Douglas Diamond also offers top-of-the-line luxury and name-brand collections like Rolex.
As though Douglas Diamond wasn't appealing enough, the store also offers unique programs to make its already affordable pieces just a little bit more irresistible. Trade-up options allow those that already own diamonds to improve on the size or quality, leaving with new pieces for a fraction of the cost. Or simply trade in old diamonds and gold to leave with cash in hand.

Whether you're buying or selling, Douglas Diamond Jewelers has something stunning for everyone.

For more information about Douglas Diamond Jewelers visit 120-7 Shallotte Crossing Parkway next to Belk in the Home Depot shopping center, or call (910) 755-5546.